WE CAN NO LONGER ACCEPT ANY ORDERS UNTIL JANUARY 1ST 2024.
Stop by the One-of-a-Kind show in Chicago at the Merchandise Mart from December 7th thru 10th.
FEATURED: Terra Firma Bottle in Stoneware
This one-of-a-kind stoneware Terra Firma Bottle is hand-built and features an unusual textured exterior. Its interior is glazed and is food-safe.

Approx 9" tall x 6.5" diameter

The bottle makes a perfect vase for dried flowers, or use it as a jug for water or wine. Food safe.
Available on our website, gallery, or at the One-of-a-Kind Show in Chicago from Dec. 7th through 11th.
Available for purchase here.
Favorite Bowl Collection: Sold out but more to come in 2024.
January 10th, 2024 is the next pre-order date for Crucibles, Comfort Cups, & Shell Bowls.
This is our last firing of the year for custom orders. We will
Pre-order by Jan. 10th, 2024: Crucibles
Now you can preorder your Crucible in your favorite glaze color and exterior finish. An 8-page booklet, Bread & Crucible, comes with every purchase and includes our favorite bread recipe (a French boule).
We will ship each Crucible for $8.00 by USPS. Need a gift card, let us know your message, and we will include your holiday message with each Crucible.
CRUCIBLE COLLECTION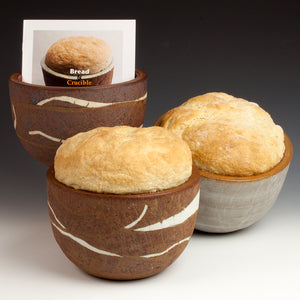 Pre-Order by Jan. 10th 2024: The Best Ice Cream Bowl
Simple, hardy, versatile, and... cute! The bowl fits perfectly in your hand and it keeps the ice cream cold. You can even chill the bowl in the frig before you make your dessert.
Choice of six glaze colors.
When you're not eating ice cream use the bowl for baking or microwaving.
Order your Ramekin Bowl here
Pre-Order by Jan 10th, 2024: COMFORT CUPS
We named it our Comfort Cup, because hot coffee at 6 AM or a cold-one at 6 PM this cup feels good in your hands at any time.
Each Cup is unique. Hand-built with stoneware clay. Food, oven, microwave, and dishwasher safe.
Available colors: Autumn Yellow, Creme Brulee, Ruby Red, Antique White, Nutmeg White, Serena Blue
More information here
Pre-Order by Jan. 10th 2024: Stoneware SHELL BOWLS
We call it a SHELL bowl because it appears delicate like an ocean shell, but it's hardy enough to withstand the rigors of your day. It's the bowl with a work ethic! This bowl takes you from morning granola to a midnight snack, hot or cold.
Shell Bowl Collection
'Shroom Bowls
'Sroom Bowls are Steve's current love.
Each bowl is hand-formed with a distinctive, organic shape and silhouette. Steve added three tiny feet to the bowl to give it stability, but which also seem to animate it. Like so many of Steve's pieces this design is both artful and function.
Usually the bowls have a 10" diameter but, there's a size range so it's best to check the details of each bowl.
You can purchase Shroom Bowls this holiday season at one of our the markets we will be at in November and December.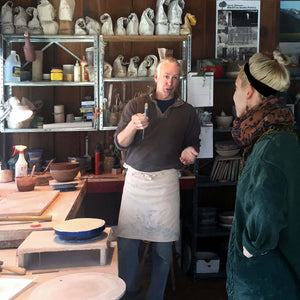 A lovely day trip...
Take a road trip to New Carlisle, Indiana and visit our clay studio and gallery during the month of March.
Every Thursday, Friday, and Saturday
Located at 8988 E 350 N, New Carlisle, IN.
Hours 10 A.M. - 5:00 P.M EST.
Or schedule a visit at your convenience. Call 773-318-9161.