• Louise Belmont-Skinner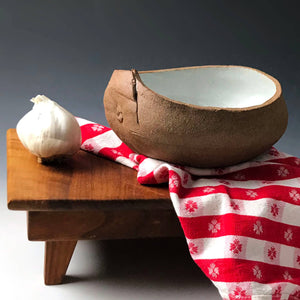 We call this bowl Mimi's Soup Bowl. I think it was a very imaginative choice for a soup bowl. You can see the spot where the stem was connected to the melon.  We made a stoneware bottle from an oval watermelon. The exterior surface has been cared by the potter to create a texture. This is a Terra Firma Jug that was inspired by a very round watermelon. The exterior is again carved by the potter to create a texture that criss crosses around the shape.
---
• Louise Belmont-Skinner
What's a Whiskey Cup? Here's the story. From its beginning, the design of this small cup evolved naturally out of Steve's previous work (like his stoneware Wrapped Bowls). He refined the cup's wrapped construction and developed textured exterior finishes to contrast with each cup's rich, smooth interior glaze. When I removed one of the new cups from our kiln at the completion of its first test firing, I enjoyed feeling its weight and texture in my hand. I enjoyed using it to share a toast with Steve after the day's work in the studio. I named it a Whiskey Cup....
---
• Louise Belmont-Skinner
Inspired by those gourds and squash that I grew, year after year, in my garden, Steve created the FAVORITE BOWL.  The design also grew out of Steve's interest in natural forms which he "documents" by making handmade molds of these forms. A few of the molds, because of their unique shape, are set aside for FAVORITE BOWLS.To make a bowl, Steve begins by pushing clay into one of the designated molds. He determines the bowl's height, texture, and undulating top edge. Steve may apply porcelain inlay on the bowl's exterior (an influence dating back to the potter's printmaking days at...
---
• Louise Belmont-Skinner
In February 2020, Steve and I had our last in-person art show at the American Craft Exhibition in Baltimore. Then we went into lockdown, hibernation or isolation call it what you will.